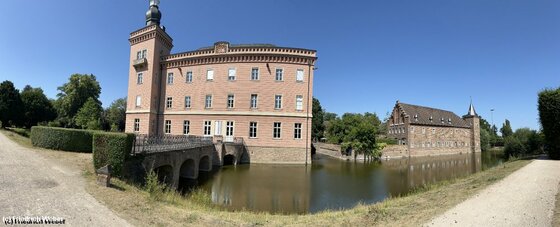 Die Bauten des Schloss Gracht im Herzen von Liblar stammen überwiegend aus dem 19. Jahrhundert.
Über 400 Jahre lang war das Schloss Stammsitz der Wolff Metternich zur Gracht, bis 1957 die Gemeinde Liblar das Schloss kaufte. Danach wechselten mehrfach die Besitzer.

Während der Park in öffentlicher Hand blieb, erwarb 1973 der Verein zur Förderung des Universitätsseminars der Wirtschaft e.V (USW) das Schloss und baute es zu einer renommierten Fortbildungsstätte für Führungskräfte der Wirtschaft um.
2004 wurde es in die 2002 gegründete European School of Management and Technology (ESMT Berlin) integriert
Zum 30.11.2018 verkaufte die ESMT Schloss Gracht. Die Nachfolger wollen das Schloss zu einem Zentrum für Stressmedizin ausbauen.

Leider ist dass Schloss nicht zu besichtigen, der öffentliche Park dagegen lädt zum Lustwandeln ein.